INTRODUCTION
Fighters was completed in 1991 for Channel 4 Television. It was commissioned by Alan Fountain for the Independent Film & Television slot and the brief was 'to make television with a difference', television that was bold and experimental. Alan gave us total free rein, which I think it would be hard if not impossible to get in television today. Quite simply, he made his decision to commission the project and then let us get on with it. He trusted us, and it was trust all through the film, at every level, that made it what it is.
The brief was 'to make television with a difference'.
— ALAN FOUNTAIN
First transmitted in September 1992, Fighters was written and directed by Ron Peck and produced by Mark Ayres through their company Team Pictures Productions, based in Mile End.
Ron Peck shot the first 40 hours or so of video between September 1990 and March 1991. Originally intended as research material only, much of it ended up in the finished film.
For the main shoot, March 1991 to May 1991, professional cameraman Carl Ross shot about another 100 hours of video.
The intention of the film was always very clear: to get under the skin of the fighter, to see boxing through the fighter's eyes, to listen to him, but also to understand the appeal of boxing to the fight fan and to explore the whole mythology of boxing generated by boxing movies and images.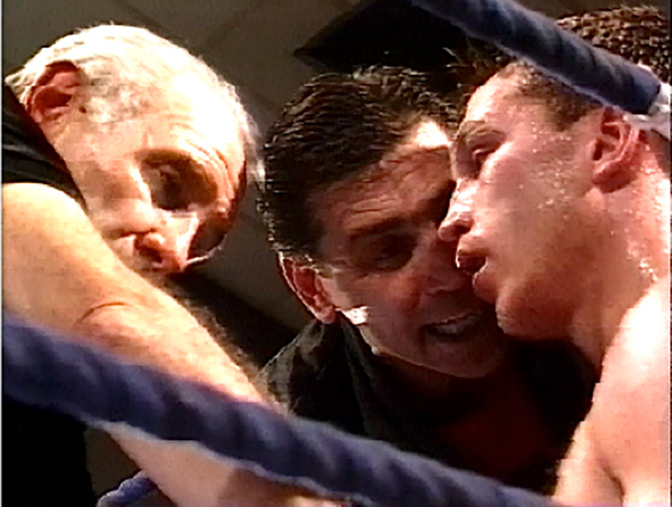 A specific movie reference was Robert Wise's 1949 boxing film The Set Up, with Robert Ryan. The hotel room where Ryan and his wife spend much of the film was reconstructed in a studio for some specific scenes in Fighters. Other movie references were Mark Robson's Champion, with Kirk Douglas, and two Stanley Kubrick boxing films, Day of the Fight and Killer's Kiss.
Most of Fighters was shot in East London, especially in West Ham, Canning Town and Bethnal Green. The actual fight scenes were shot at Basildon Festival Hall.
The new Hi-8 cameras we used were innovational at the time, much smaller than the usual video cameras used then for shooting documentary material, allowing an intimacy of recording, being unobtrusive, and easily operable by one person.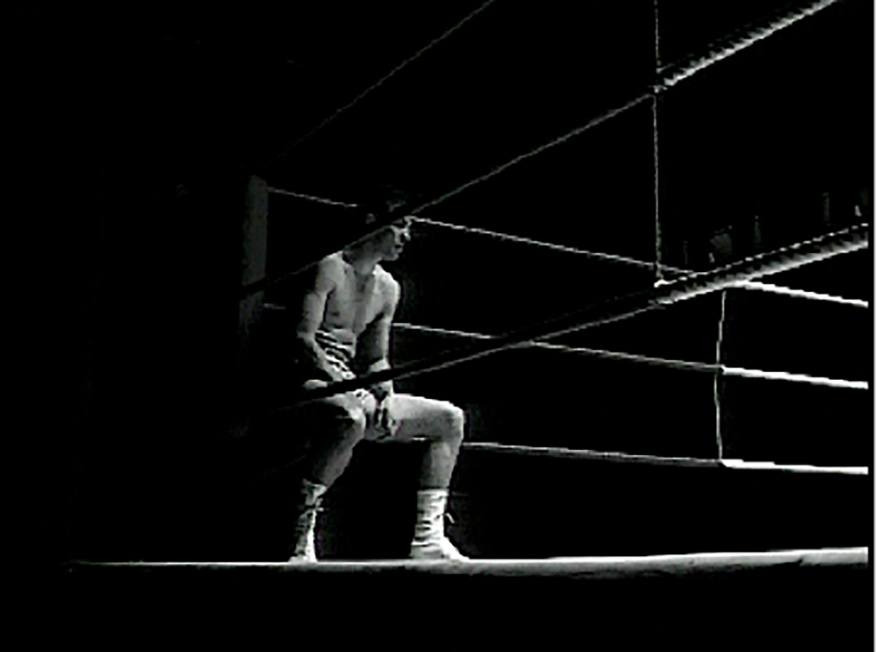 Fighters was well-received both by the boxing community and by the wider television audience. It still gets regularly listed in polls of 'Top Boxing Films' (see 'Fighters/Archive/Press'). In late 2016 its 25th anniversary is being marked by a new DVD release and by previously unseen material being made available on this website (see 'Fighters/Archive/Rushes'). Much more will follow.
Very tragically, one of the boxers who featured strongly in the film, Bradley Stone, died as a result of ring injury in 1994, aged just 23. A statue was later erected in his memory outside the Peacock Gym in Canning Town. There is much material related to Bradley on this site. The film we made afterwards, Real Money, which he was going to be in, was dedicated to him.
Inserted frames from the film show Dean Hollington with Jimmy Tibbs and Terry Lawless, and Mark Kaylor.
Tags: Mark Kaylor, Dean Hollington, Mark Tibbs, Jason Rowland, Roy Rowland, Bradley Stone, Jim Peters, Joey Peters, Terry Dixon, Jimmy Flint, Jimmy Tibbs